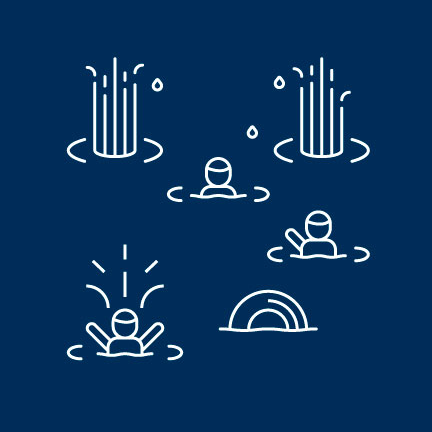 Students who have spent 30 weeks giving maximum effort in classes and extracurricular activities deserve more than a break before finals. They deserve to cut loose and celebrate with their classmates.
Started in 2005, IC Kicks Back is on the last day of classes and is open to all students. It includes a band, a barbecue, and huge inflatables. Recent performers have included the Wailers (of Bob Marley and the Wailers), B.o.B., and Hiatus Kaiyote.
Once the underclassmen clear out, seniors get to enjoy an entire week of activities just for them, including a lake cruise, wine tasting, color run, and barbecue.
However, the most iconic tradition is the Senior Splash—originally known as Fountain Day—during which the senior class jumps into the Dillingham fountains. When the rite of passage was started in the late 1980s, Fountain Day took place on the last day of classes, but safety concerns prompted Nick Tarant '00, the school's student body president, to suggest moving the event to Senior Week. President Williams agreed, and the event was renamed and officially became part of Senior Week.
"I've been waiting to do this since I was a visiting student and learned about it on my tour," said one senior. "It means you did it, and I'm so close to that. It's the best feeling in the world."