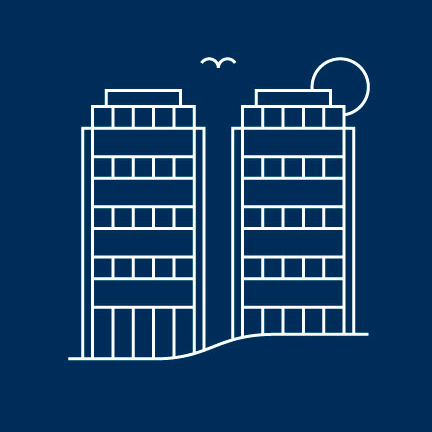 As the alma mater goes, "Ithaca, my Ithaca, how beautiful you are: Your towers high upon South Hill reach from stone to star."
The Towers, the highest residence halls on the Ithaca College campus, can be seen for miles and are often used as a symbolic representation of the college. The twin 14-story residence halls—which offer some of the best views on campus—were completed in 1965. The 14th floor of the East Tower was, for many years, home to the Tower Club, where faculty, staff, and students joined with members of the community to enjoy fine dining and a fantastic view. The annual changing of the Tower lights on New Year's Eve is one of the college's most memorable traditions.
"I've wanted to go to IC my whole life, and every time I visit Ithaca, I look for the Towers and know that's where I'll be someday," said a first-year student and member of the class of 2021, just weeks before embarking on their first semester at Ithaca.