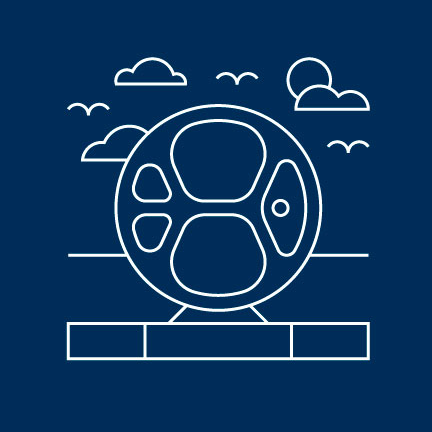 For decades, students, faculty, and staff have wondered what the Textor Disc is meant to represent. Is it a fish? An egg? A spaceship?
Often referred to as the Textor Ball, this iconic sculpture was commissioned by President Howard Dillingham and his wife, Dorothy, after they had seen a seven-inch tall model of it in a New York City gallery. It was constructed by Ithaca artist Jack Squier in 1967 and given to the college by David Mandeville, who would later become a college trustee, in memory of his grandfather Hubert.
In 2013, the artist revealed that he had originally planned to call the sculpture the Head, but President Dillingham had begged him to reconsider, saying that if it were called the Head it would be irresistible to students to paint eyes, a nose, and a mustache on it. And that is how the sculpture came to be called, instead, the Disc.
Today, it still serves as a central place on campus for students to hang out with friends before and after class.
"The Textor Ball is my icon," said a 1992 alumna. "Although the fountains are beautiful and really, my favorite site on campus, it is the Textor Ball where I would meet up with friends between classes—and it is the friends I made at IC that are most lasting, most important, and most special about my time there. Plus, I think the view from 'the ball' is better. And besides, the myths and legends surrounding the ball are such fun!"