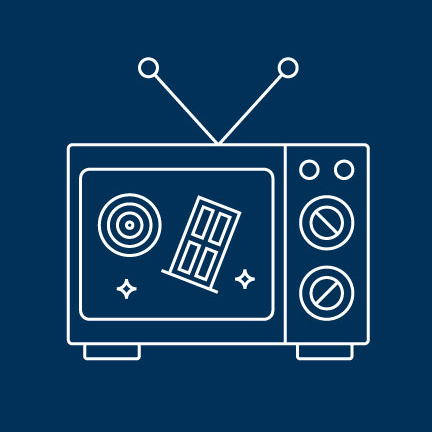 "You are now entering The Twilight Zone..."
Those words, narrated by the show's creator himself, are iconic on their own. Add in the fact that Rod Serling taught at IC, and you have a genuine IC icon.
Serling taught at Ithaca from 1967 to 1975, screening his own work and mentoring students by providing feedback on their scripts and projects. He even occasionally appeared in their films and hosted students at his family home on Cayuga Lake.
After his death in 1975 his wife, Carol, a longtime Ithaca College trustee, began donating some of his work to the college. This lasted for years and resulted in the Rod Serling Archives at Ithaca College, the largest single collection of his television scripts and screenplays. These include many original scripts, copies of episodes of The Twilight Zone, and original voice recordings. Serling's six Emmy Awards are displayed in the Roy H. Park School of Communications.
The Twilight Zone broke new ground using science-fiction and horror tropes to address serious societal issues. In 2015 the college established the Rod Serling Award for Advancing Social Justice Through Popular Media, which honors a contemporary media industry professional whose work shines a light on prejudice, inequality, and evolving social norms. Award winners include Kenya Barris (creator of Black-ish) and David Simon (creator of The Wire).
"[Serling's] work in the field and as a professor have made a huge impact on the students in Park," said a 2007 alumna. "Seeing his Emmys displayed on my way to classes truly encouraged me to follow my dreams, and we are incredibly fortunate to have so much of his work archives at Ithaca College. He laid the groundwork for the TV industry, and he is a huge part of IC."