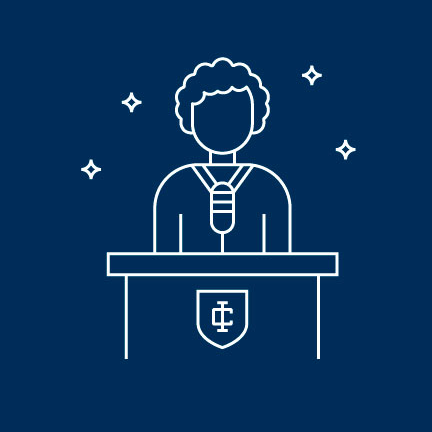 Ask any alum who graduated from 1997 to 2008 about Peggy R. Williams and most will gush with pride.
One alumna who nominated Williams said, "She was an amazing and inclusive president."
The first woman to serve as IC's president, Williams brought a new level of inclusivity and collaboration to campus, working actively with faculty and students to meet the challenges of the 21st century.
Under her leadership, the college established such initiatives as the Martin Luther King Scholar Program; the Center for the Study of Culture, Race, and Ethnicity; and the Center for LGBT Education, Outreach, and Services.
Williams was also an ardent supporter of sustainability initiatives. She was a charter signatory to the American College and University Presidents' Climate Commitment, an effort that aims to address global warming. In addition, during her tenure the college constructed two LEED platinum buildings, the Dorothy D. and Roy H. Park Center for Business and Sustainable Enterprise and the Peggy Ryan Williams Center (named in her honor after her retirement), which now serves as the college's main administration building and home to the IC Honors Program.
To honor Williams' leadership, in 2006 the college established the Peggy R. Williams Award for Academic and Community Leadership, an annual award given to students who demonstrate academic accomplishment and an exemplary level of service to the college and the community.