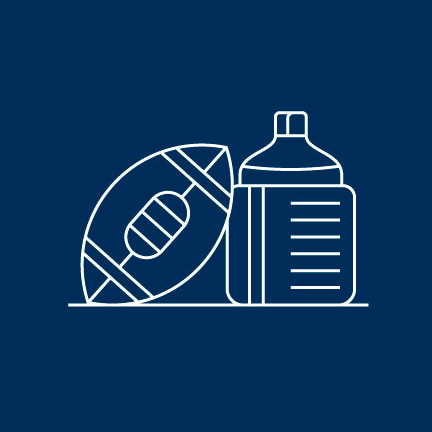 Those outside the IC community may have heard about the Cortaca Jug, dubbed "the biggest little game in the nation" by Sports Illustrated, but you have to be there first-hand to really get what all the hype is about.
The annual grudge match between IC and SUNY Cortland is named for the modest traveling trophy that was purchased at a yard sale prior to the 1959 season by Cortland captain Tom Decker. He and IC captain Dick Carmean painted it the schools' colors, and it changed hands many times in the years that followed.
The Bombers hold an all-time lead of 35-24 in the series, not including their 1988 playoff victory over the Red Dragons.
Tickets can be hard to come by—the game has sold out in the last 27 years. Not to worry if you can't get a ticket, though: the game can be viewed from any computer or mobile device on ICTV, and it is broadcast live on WICB radio. Or you can attend one of the official viewing parties in cities like Chicago, New York, and Los Angeles.
Head football coach Dan Swanstrom understands the significance of the contest to the community. "The first thing anyone asks me when they find out I'm the football coach is, 'Are you going to win Cortaca this year?'" he said. "There's a lot of excitement around the game."